SUNY skeleton gets another life
| | |
| --- | --- |
| 4/28/2022 | By Patsy Nicosia |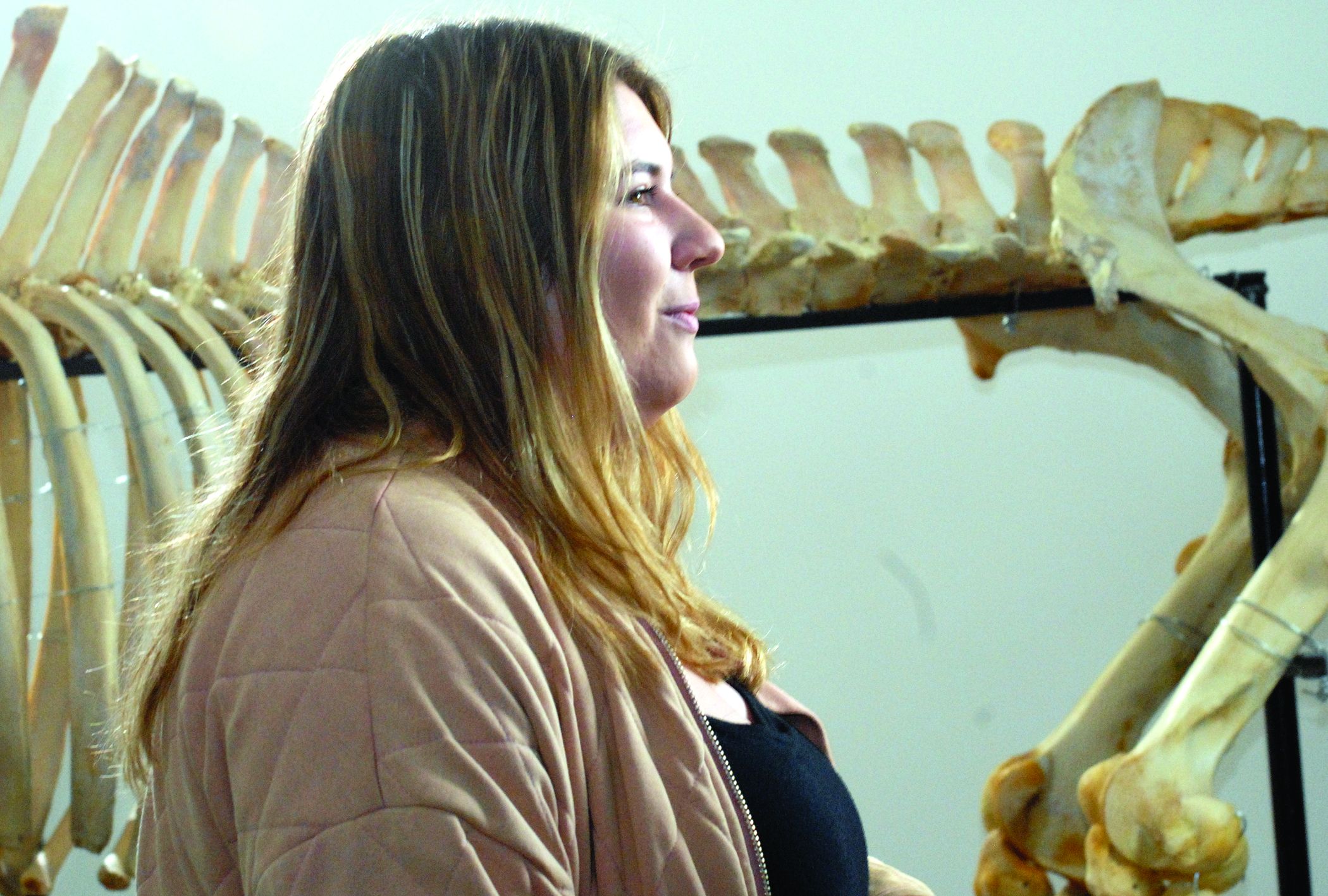 How many bones in a horse skeleton?
Two hundred and five.
Give or take, if you ask SUNY Cobleskill Animal Sciences and Honors Program students Alexandra Delvecchio and Marta Suska.
Ms. Suska graduates in December; Ms. Delvecchio will graduate in May.
Together, as part of their senior capstone Honors project, the two spent a semester reassembling the bones of a 15-year-old Thoroughbred gelding euthanized at the college in 2016.
They hope the skeleton—nicknamed Smelly Skelly because it was and that got them kicked out of their original worksite in the campus library—will be a valuable hands-on tool for students studying anatomy.
Jennifer Anderson and Mercedes Herandez began work on Skelly in 2019 after rescuing the bones from a wheelbarrow in the college Hangar and began labeling them.
"The first time I saw the bones, I knew I had my Honors Project," Ms. Delvecchio said Friday while being interviewed for a promotional piece on SUNY Cobleskill's Honors Program.
But neither she nor Ms. Suska expected it to be all time-consuming; when they wired the last bone in place, they just started sweeping up, too exhausted for the celebration they'd promised themselves.
Five months later, they're still a little overwhelmed by what they were able to pull off.
"It probably was too much to do in just a semester," Ms. Suska said, "but we just dug in. No way were we going to leave it to someone else to finish.
"We just about lived here. There were nights Campus Security checked in to make sure we were OK."
"We knew it was going to be hard," added Ms. Delvecchio. "We just didn't see the kind of problems we'd have to deal with."
Among them: Figuring out how to hang Skelly and how to compensate for the sheer weight of the skeleton's head.
Skelly's origins took a bit of detective work—and there are still unanswered questions--but the two women said his remains were composted along with those of other livestock.
That's why, at one point, they had more bones than they needed; it turns out some of them came from cows.
One of the hardest pieces of the project, they said, was bleaching the badly-discolored bones.
That required required copious amounts of peroxide from a Sally's Beauty--something that didn't raise an eyebrow when they went shopping.
Though the bones had been labeled, the labels came off during the bleaching process; in some ways, it was like starting over.
"That was pretty frustrating," Ms. Suska said.
Once they figured out where the bones went again, it was back to the store—Agway this time; again, no eyebrows were raised.
"We just told the guy what we needed, what we were trying to do and he said 'Follow me'," Ms. Delvecchio said.
They also turned to taxidermy experts in the Fisheries & Wildlife Department for advice.
"One of the things we really pride ourselves on here is working between disciplines," said Kelly Yacobucci, director of the Honors Program.
"These girls certainly did that. They're the cream of the crop."
Ms. Delvecchio has been accepted at the Ross University School of Veterinary Medicine and Ms. Suska is still trying to decide between a career in animal sciences or maybe nutrition.
Their Skelly predecessors are vet students at Cornell University and Ohio State.